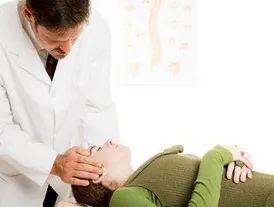 Dr. Taryn and Dr. Jeff Nyblom perform "adjustments". Their objective is to reduce the subluxation, which results in an increased range of motion, reduced nerve irritability and improved function.

There are many ways to adjust and Drs. Nyblom have a variety of chiropractic adjustment methods to use. People are different, and that is why they use multiple methods to help the wide variety of individuals that come here. Some people like to get adjusted by manual methods where they hear the joints make a cracking sound. However, this is not for everyone. Others need a more gentle form of adjusting and Dr. Nyblom will use an Activator instrument to help. It works on speed and less force. Other methods they use include specialized tables that have moving parts.
The methods they use on you will be carefully determined based on a variety of factors. You can be sure that Dr. Nyblom will do his/her best to keep you as comfortable and relaxed as possible during your treatment. Many of their patients cross state lines specifically to get the customized care from Drs. Nyblom.
Our doctors have been practicing for over 19 years each. They have been able to help thousands of patients realize better health through their adjustments. Drs. Nyblom know that the entire spine must be evaluated and adjusted to gain optimum results, or it is not going to balance the spine. Adjusting just one or two areas is not what our doctors do. They are remarkably thorough in their treatments so you can be assured that you are getting the best care for your body.
As an additional benefit, DOT and CMV exams are also among the services available at Total Health Chiropractic. Dr. Jeff performs the DOT and CMV exams and is the Certified Medical Examiner here. His National Registry Number is 9124645134.